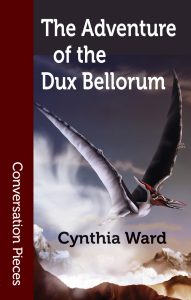 The Adventure of the Dux Bellorum by Cynthia Ward (Aqueduct Press, 2018) is a sequel to The Adventure of the Incognita Countess, which we reviewed previously. If you've read the first book, you're in for a delightful treat of Lucy Harker's continuing adventures.
This time around, Lucy is protecting Winston Churchill on the front in World War I, while Countess Karnstein is elsewhere in Europe. When they meet up again, things have gone more than a little bit sideways, and they spend the remainder of the book sorting out the troubles they've encountered.
With dashes of wolfmen and other unusual creatures, plus more characters from literature tucked in, The Adventure of the Dux Bellorum is a lovely sequel, sure to delight fans of Ward's character, Lucy Harker. We can only hope to read more of her exploits in the future!
The author provided us with a free copy of this novel in exchange for review consideration.
Follow us online: