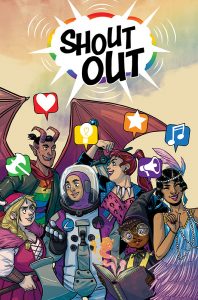 The amazing folks at TO Comix Press are at it again with another comics anthology called Shout Out. This anthology is a collection of queer comics for teen readers, by a queer creative team, and they're currently seeking funding on Kickstarter!
The creators involved with this project include a few names that might be known to fans of comic books and awesome speculative fiction, including Kieron Gillen, an artist who has worked on The Wicked + The Divine, and MSJ alum H. Pueyo, who also earned the James Tiptree Jr. Literary Council Fellowship. TO Comix Press is also the team behind Wayward Sisters, which was a gorgeous anthology of comics about women and non-binary monsters.
The Kickstarter for Shout Out runs through December 14, 2018, and the release date for the anthology will be in May 2019. They hit roughly 1/3 of their goal in the first day, so they're well on track to another successful and awesome project!
Follow us online: