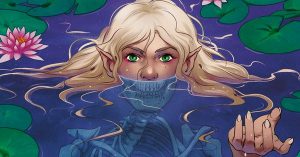 TO Comix Press is crowdfunding an anthology of comics about monstrous women (and non-binary folks), written and illustrated by women and non-binary folks! This Kickstarter for Wayward Sisters drew me in with the picture of what I interpret as a mermaid luring someone in, but clearly, she's not what she seems beneath the surface of the water. Just my cup of tea!
TO Comix has run several other successful Kickstarters for their comics anthologies, and they've got a good following. I'm looking forward to checking out this collection. As an added bonus, one of the comics will be written by one of our future MSJ alums!
This Kickstarter runs until November 9th, so make sure you check it out before then!
Follow us online: