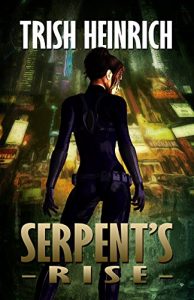 Serpent's Rise (Beautiful Fire, 2017) is the second book in Trish Heinrich's Vigilantes series, following after Serpent's Sacrifice. In this book, set in the early 1960s, Alice has mostly hung up her costume, albeit reluctantly, in favor of navigating high society and the business world. But she still desires revenge against the Phantasm, whose actions caused death and mayhem in Jet City in the previous book.
This book has less super hero action than the previous installment, especially as Alice deals with the loss of her mentor and the return of some of her previous allies. The emotional fallout from these events comprises a larger chunk of the plot, though there is still plenty of action strewn throughout as the Serpent attempts to locate missing children and stop the Phantasm. The story also interweaves social issues of the time throughout the plot, much like the last book did.
Serpent's Rise introduces new individuals with power, most of whom are children and young teenagers. While only one of these characters fights alongside the Serpent, he does so to good effect. And Alice/the Serpent has her usual support staff from the previous novel, who are all dealing with issues of their own as well.
If you enjoyed Serpent's Sacrifice, you'll likely enjoy this return to the adventures of the Serpent. I'm very much looking forward to the next book in the series, as this book leaves open plenty of avenues for future stories!
The author provided us with a free copy of this novel in exchange for review consideration.
Follow us online: