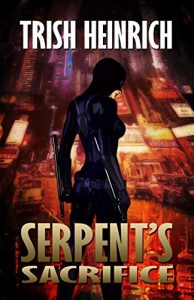 Serpent's Sacrifice by Trish Heinrich is the first book in her Vigilantes series of super hero novels. Set in the fictional Jet City that bears some resemblance to parts of the Pacific Northwest, the book follows Alice from her childhood with an abusive father to her adulthood where she takes on the mantle of the super hero known as Serpent. Accompanied by two of her childhood friends, the three young heroes fight against a mysterious Syndicate that seems bent on destroying the place they call home.
The book opens in 1947, when Alice is nine years old, but spends little time on that portion of her life. Nonetheless, these few chapters lay the groundwork for the remainder of the book, set in the late 1950s and early 1960s, focused on Alice as a young woman just starting out her adult life. The book deals with heavy issues, including spousal and child abuse, racial injustice, and rampant sexism, but Heinrich handles these topics skillfully.
One of Heinrich's particular strengths is writing detailed combat sequences. The reader can track every punch thrown and every bone broken in exquisite detail. These fight scenes are not for the faint of heart, either—Heinrich's heroes get beat up plenty, and she takes the after effects of their injuries into account.
Serpent's Sacrifice is classified as new adult, but it is generally young adult friendly. However, readers should be warned that Heinrich does not flinch from her descriptions of the spousal and child abuse early on in the book, and some readers may find this aspect extremely uncomfortable to read. Overall, however, this is a detail that is important to the story, and is worth pushing through to fully appreciate the character of Alice and her relationships with other characters in this beautifully crafted world.
The author provided us with a free copy of this novel in exchange for review consideration.
Follow us online: