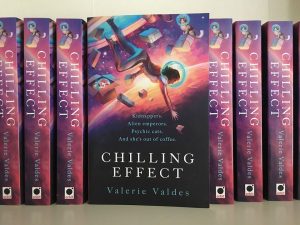 Chilling Effect (Harper Voyager, 2019) by Valerie Valdez is a fast-paced space adventure with twists and turns aplenty. With amazing characterization and witty dialogue, it's the sort of book you'll only put down if you absolutely have to.
The book is centered on Captain Eva Innocente, who learns her sister has been kidnapped by a sinister organization that wants Eva to run errands for them if she ever wants to see her sister again. Eva's used to doing shady jobs as a smuggler, but some of the operations she's asked to do go far beyond that. Trying to keep her goals a secret from her crew is a challenge, especially as she finds herself more and more attracted to her engineer. And then there are the psychic cats.
While the above may sound like a lot to fit into a novel, Valdez manages to squeeze all that and then some into Chilling Effect. Despite the plethora of weird events and plot points, it all sticks together brilliantly. The book will appeal to fans of Firefly and quirky humor in the vein of Cat Valente's Space Opera. So check it out!
Follow us online: