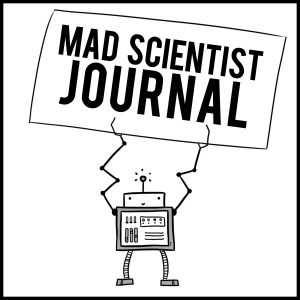 Since the very beginning, Mad Scientist Journal has been dependent on the work of our very talented artists. Neither of the co-editors have much talent for visual art, though Dawn tries from time to time. If we hadn't found and maintained our relationships with such great artists, we would have had a much different look to our little magazine!
Katie Nyborg, aka Stick, was one of our earliest artists, who designed the very cute robot logo that we use for MSJ as a whole. She eventually stopped doing art for hire, but she also helped out with some of the cover layout now and then. And she's remained a strong supporter of the magazine, too. She doesn't really have anything we can link to here, other than her podcast about creepy things, Morbid Moment.
Stick also introduced us to Leigh Legler, aka Red (who is also part of Morbid Moment). We fell in love with Red's style from the very first piece they sent us, and we were happy to give them many insects and creepy things to illustrate. You can find more of Red's stuff here.
Justine McGreevy was also one of our early artists, and it's been a delight to see her style evolve over time! Looking at the difference between the covers she did for us always blows me away! You can find Justine's work here.
One other artist who we've worked with for a long while is Luke Spooner, who also has the honor of being the artist farthest from MSJ's headquarters, across an entire ocean! He's also one we liked to send the creepy pieces, because his style lends itself so well to dark stories. He's making quite a name for himself in the horror illustration world, too! You can check out Luke's portfolio here!
(We'll be back next week with thanks for our remaining artists!)
Follow us online: