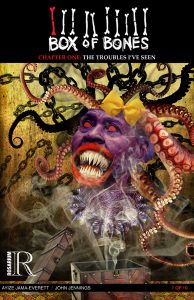 We've found a couple of awesome projects currently funding on Kickstarter that we thought our readers might be interested in!
The first is Box of Bones, "a supernatural nightmare tour through some of the most violent and horrific episodes in the African Diaspora." Also hailed as "Tales from the Crypt Meets Black History," this comic series follows an African American grad student researching a mysterious box. The Kickstarter for this comic ends March 11th, so check it out soon!
The other project is Mary Shelley Presents in a trade paperback format. The premise is comic adaptations of stories by Victorian women authors, framed with an introduction by Mary Shelley and her creation from Frankenstein. The stories are horror and dark fantasy, and the trade paperback collects the three already existing comics plus a fourth, double-length comic. This Kickstarter also ends on March 11th!
Follow us online: