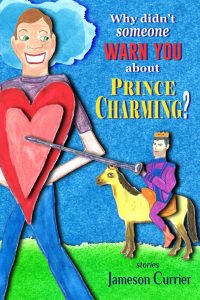 Jameson Currier's short story collection, Why Didn't Someone Warn You About Prince Charming? (Chelsea Station Editions, 2019), is a themed collection featuring stories with gay male protagonists and told in first and second person. While the speculative elements in this collection are slight, leaning more to slipstream than supernatural, even speculative fiction fans will enjoy this carefully crafted collection.
The stories frequently involve theatre, big city living, and protagonists who feel inadequate in the face of attractive gay men. The plots are poignant, with frequently bittersweet endings. My favorite story in the collection was "The Devil's Cake," which spans decades and deals with family secrets and the drama surrounding them, but ultimately has a happy ending.
If you enjoy queer fiction with limited speculative elements, Why Didn't Someone Warn You About Prince Charming? will be right up your alley. Even if that's not your usual reading preference, this collection is still worth reading to explore how the author approaches variations on a theme throughout his work.
The author provided us with a free copy of this book in exchange for review consideration.
Follow us online: