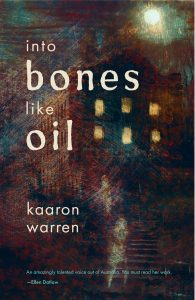 Karron Warren's Into Bones Like Oil (Meerkat Press, 2019) is a Gothic-style novella that blends the surreal and literary into a ghost story like nothing I've read before. With characters that feel equally at home here as they might in a cozy mystery, this novella is a quick read saturated with emotional impact.
The story revolves around a boarding house, the Angelsea (noted by the characters as a spelling error), where people go to get away from their lives. Some are there to sleep soundly, but as Dora discovers, their sleep only seems sound. There are ghosts aplenty at the Angelsea, and the visitors often play host to these ghosts while they sleep. Some of the visitors are only too happy to host the ghosts, while others, like Dora, worry about what their own ghosts might have to say to them.
While geared toward a more adult audience, I found this book to be something of a spiritual cousin to Miss Peregrine's Home for Peculiar Children. It shares that surreal, slipstream feel, where there are so many strange things going on, but the characters accept those things as part of their reality. If that sounds like your sort of book, check out Into Bones Like Oil, which released yesterday!
The publisher provided us with a free copy of this book in exchange for review consideration.
Follow us online: