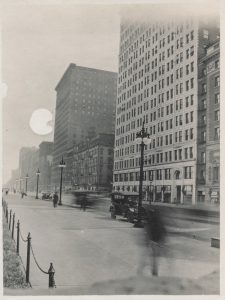 Julian Dexter had a story in Utter Fabrication, and now he's back with a story in I Didn't Break the Lamp!
DV: Tell us a bit about yourself!
Julian Dexter: I love reading and writing and currently work as both a writing tutor and as "that person who checks your books out at the library." As with most writers, I have way too many ideas and not enough time to get them all down. I currently live with a very loud calico cat who somehow takes up my entire bed. I recently got engaged to my girlfriend, and my boyfriend just moved to Washington from Michigan to be closer (yay polyamory!).
DV: What inspired you to write "See Me" for I Didn't Break the Lamp?
JD: When I saw the prompt, my first thought was a world I'd been writing in for a Nanowrimo project I had never completed: Unfinished Inc. (Looking back on it, the fact that my working title for the document was "Unfinished" feels like it became a self-fulfilling prophecy …) I wanted to dive back into the world, and Hudson seemed like the ideal central character for an imaginary friend story. After settling on the world and a narrator, it was just a matter of plot (and I can thank my girlfriend for that by letting me bounce ideas off of her).
DV: The world depicted in your story is one in which it's not abnormal for people to deal with the supernatural (or at least that's the case for your characters). Do you think this would extend to all forms of supernatural creatures, or does it just work for the sort you include in your story?
JD: I'm hoping to extend it to all supernatural beings or, at the very least, have a reason why some exist and some don't. At the moment, the list of creatures that I've confirmed exist in the world of Unfinished and that have a set culture and history is extremely short. But in general, the magical beings of this world keep to themselves, and Unfinished Inc. is there to make sure that continues to happen.
DV: The organization your narrator works for is a fascinating one. Do you have ideas about the other sorts of cases they might handle? Any plans for more stories featuring this organization?
JD: Thank you! I do have plans for the world. I was working on a novel series featuring the organization (with Vivian as a lead), but I ended up with some challenges in writing it about halfway through book one. Most of Vivian's cases thus far have included a wide variety of ghosts–from mischievous pranksters to lost souls and anywhere in between–but she also received a case about a hill that's eating people, and she's been on the trail of a rogue vampire. I'm hoping to add more variety to the cases and to bring in more mythological beings from all around the world, especially more obscure creatures.
DV: What's on the horizon for you?
JD: I've been working on a sort of strange project for the past few years. It's set in a world I developed in middle school that I decided to flesh out some and fill with new characters. Book one has been out for roughly two years now. I wanted to finish the second volume by now, but I've had a series of technical difficulties, including my laptop dying. I recently started releasing some free stories on a couple different platforms that are set in this same world, and I'm working on developing a tabletop game for it as well. It's not something I was expecting to invest this much time and energy on, but I really like writing those specific characters.
Follow us online: