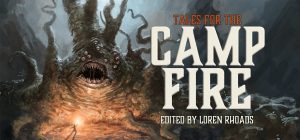 Tales for the Camp Fire (Tomes & Coffee Press, 2019), edited by Loren Rhoads, is an anthology of horror stories from Northern California authors who banded together to raise funds for the victims of the November 2018 fire that destroyed the town of Paradise, California. The anthology includes both reprints and original stories, so it's a wonderful place to re-read an old favorite or find a new favorite creepy tale.
My hands down favorite story of the bunch was "The Quarry" by Ben Monroe, which had a Stranger Things meets Cthulhu vibe that was executed superbly. But this wasn't the only story I loved. I also enjoyed Jeff Seeman's creepy take on a ghost story involving a trucker in "Road Kill." "Seven Seconds" by Erika Mailman is a beautiful blending of history and the twentieth century. And "Ada, Awake" by L. S. Johnson is a story both lovely and creepy about a woman coming into her own.
If you love scary stories, check out Tales for the Camp Fire and see which ones creep you out the most. You can find the anthology for purchase online!
The editor provided us a copy of the anthology for review consideration.
Follow us online: