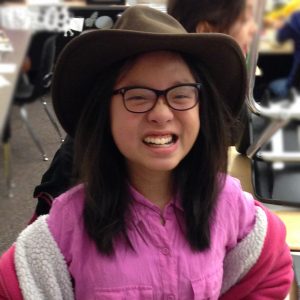 Today, we're featuring our interview with the youngest of our authors in I Didn't Break the Lamp, Kayleigh Taylor!
DV: Tell us a bit about yourself!
Kayleigh Taylor: I wasn't born in Portland. I was born in China, far away. Mommy and Daddy adopted me when I was nine months old. I'm going to be 18 in September. I started writing in elementary school. Writing stories helped my brain focus a lot better. When the teacher is talking it sometimes makes my brain feel liked a sweaty block of ice!
DV: What inspired you to write "The Tutor" for I Didn't Break the Lamp?
KT: Usually, I have someone help me with my homework, but I didn't have a tutor for a while last year. Since Peachy (my cat) sleeps with me every night, and watches me do my homework, and I was having a really hard time in my classes, I thought it would be great if he was my tutor!
DV: Tell us a bit about how your writing process works.
KT: I write almost every day, either on paper or typing into a computer in Word or Google. I just write ideas as they come. Then I add punctuation and capitalization. Sometimes I forget, but I try to do it by myself. Then I have Daddy help me edit it, to make sure the lines are in the right place, and all the periods are in. We talk about the story, to make sure the best ideas come out.
DV: How is your driving training going?
KT: I got my learner's permit after seven tries, even though people didn't think I could! But then I started having seizures, and that meant I couldn't drive. I'm on some medication that is helping a lot, but now my learner's permit has expired! So I'm studying every day to retake the permit test. Hopefully I will have a new permit and be practicing driving again before this book comes out!
DV: If you had an imaginary friend growing up, what was their name, and what were they like?
So Peachy is like an imaginary friend because he's covered in cat fur, and he sometimes is invisible. He's my real life cat, but he talks to me sometimes, but mostly about life, not homework.
DV: What's on the horizon for you?
KT: I wrote a children's picture book called "Target's Taxi Trouble," about a cat (and his friends) who drive taxis. We thought we had someone to do the pictures, but she decided it would be too hard. So we are looking for an illustrator to do the drawings.
(Kayleigh's dad, Calvin Taylor, added the following: All of the above is from Kayleigh. She didn't really want to talk about her disability, but said it was okay for me to say something. Kayleigh was diagnosed with Intellectual Disability when she was quite young. However, she doesn't let that stop her from pursuing her passions. I don't know anyone, youth or adult, who works as hard as she does. We're a family of readers and writers, but Kayleigh is the first one to get paid for her writing. This makes her parents very proud (though Peachy claims it is all his doing).)
Follow us online: