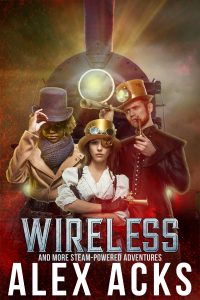 Wireless and More Steam-Powered Adventures by Alex Acks (Queen of Swords Press, 2019) is the second collection of steampunk adventure stories featuring Captain Marta Ramos and her intrepid crew of railway pirates. The stories in this collection are all longer pieces, and they're connected to one another sequentially. In some ways, this almost makes Wireless a non-traditionally structured novel, but the individual stories can also stand alone.
The first of the stories, "Blood in Elk Creek," delves deep into the threat of Infection, a loathsome disease that runs rampant in the wide-open spaces between the Duchies. Occurring roughly simultaneously to Marta's adventures in the first story, Simms has adventures of his own in "Do Shut Up, Mister Simms," when he gets roped into a heist with Deliah Nimowitz. Finally, the titular story, "Wireless," brings the whole gang back together for a larger and more dangerous adventure.
While Wireless and More Steam-Powered Adventures could be read as a novel, the structure of three independent stories does not lend itself to a traditional novel structure. However, each of the pieces are necessary to the larger whole, as the first story sets up a major point of contention in the third story, while the second story, though it may initially seem tangential, adds a necessary element that helps instigate the third story. As the foreword to the book recommends, these stories should be read in the order they are presented, and I think that each story is essential to the enjoyment of the book as a whole.
The publisher provided us with a free copy of this collection in exchange for review consideration.
Follow us online: