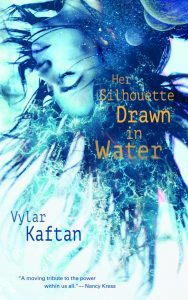 Her Silhouette, Drawn in Water by Vylar Kaftan (Macmillan, 2019) is a queer psychic thriller that can be a quick read, but you'll find yourself wanting to slow down to savor the gorgeous language and beautiful characterization.
The main character, Bee, is in an unusual prison without guards, where every day is an exercise in survival. She has few memories of what she did to get there, but Chela, who shares this prison, has told her that they are both psychics who caused a massive disaster. When Bee begins reaching out with her allegedly stunted psychic abilities, she discovers layer upon layer of lies and deceit as she struggles to break free from her imprisonment and its after effects.
The world had a bit of a dystopian feel, and both the world and the memory loss reminded me in places of Altered Carbon. If you enjoy thrillers that deal with issues of oppression and disability, along with a stunning cast of queer characters, you'll love Her Silhouette, Drawn in Water. It's available on May 21, 2019, but you can pre-order now.
The publisher provided us with a free copy of this novel in exchange for review consideration.
Follow us online: