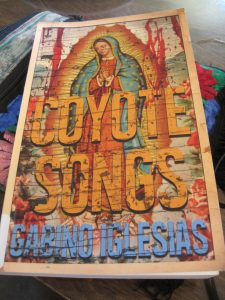 by Nathan Crowder
I grew up in the great American Southwest, in a town on the fringes of the desert where street names were just as likely to be in Spanish as English. I had friends and neighbors with names like Atencio, Martínez, Lopez, and Candelaria. Despite having moved out of the area decades ago, I was eager to dive into Coyote Songs by Gabino Iglesias (Broken River Books, 2018). I mean, listen to the hook from the back cover: "…ghosts and gods guide the hands of those caught up in a violent struggle to save the soul of the American Southwest."
How is that not entirely my wheelhouse? It's everything I love.
By page four, I realized that Coyote Songs was not meant for me.
I shouldn't have been surprised by the use of Spanish in the novel. But when I came across a block of text in Spanish with no translation and not enough context for my limited grasp of the language to decipher, I had a revelation: my experience growing up there was not a universal experience. I'm a gringo, and I was merely a tourist. And if I was to continue reading, I would be seeing the border through a very different viewpoint.
Obviously, I continued reading. Not just because I'd already been hooked, like the massive alligator gar Pedrito and his father Don Pedro seek to catch in the first chapter. Iglesias writes lyrical prose that's both approachable and taut as a fishing line. Even as it drifts occasionally into Spanish, there's an urgency that compels the reader to keep going. But another reason I kept reading, and perhaps the most compelling, is that in just four pages, I had experienced a unique paradigm shift.
As a white dude growing up in this country, the majority of media has been crafted with me in mind. And while I get frustrated with and reject the "white savior" narrative that's typical of stories lobbed at me that feature other cultures, I'd never experienced anything quite like Coyote Songs. Gabino Iglesias seems hell-bent to use the literary tools at his disposal (which are exceptional) to tell the story he wants to tell. And while I was invited along on the ride, there were zero fucks given for my comfort.
Labeled as "barrio noir," this poetic and bloody novel is one blistering hell of a ride, equal parts crime, horror, and dark fantasy. It is brutally, often shockingly violent and, at turns, heart-wrenchingly familiar and tragic. The multiple characters travel their arcs, ignorant of each other, goaded toward their often dark fates by a vengeful spirit that has taken root in the desert. Dark magic and violence seethe under the surface of the sand. They bake in the unforgiving sun. They nest in the consciousness of the holy coyote, vengeful child, revolutionary artist, and woman pregnant with something not of this world. And as their stories barrel toward their conclusions, overlapping and intertwining, we get a brutal and honest look at region and its people that, if spoken about at all, are demonized, mythologized, but rarely seen.
Gabino Iglesias is the best kind of tour guide—the kind that offers an unvarnished glimpse, full of humanity and urgency, fear and hope intertwined, and leaves you to make up your own mind. Coyote Songs is a sparking cannon fuse, speeding toward an ending both compelling and inevitable. While the novel might not have been meant for me, I consider it essential reading, as electrifying and vital as any novel I've read in the past decade. It's no wonder it's been nominated for both a Bram Stoker Award and a Locus Award. Highly recommended.
Follow us online: