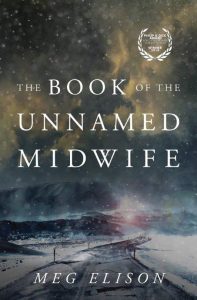 The Book of the Unnamed Midwife, by Meg Elison, is a post apocalyptic story about a woman who wakes up to find most of the world dead. Both haunting and inspiring, it follows her as she explores the fragments of North America and tries to find ways to survive.
The unnamed protagonist is a obstetric nurse and midwife who worked at the front line of a virulent and lethal disease that impacts women and unborn children more than men. She contracts the disease and manages to survive, but after her fever breaks she finds herself alone in the hospital. From there she tries to find her way through a world where infrastructure has collapsed, the scattered population is primarily armed men, and pregnancy is a death sentence. 
With that setup, it would be easy to assume how the rest of the book would go. As the story evolves, Elison's use of point of view challenges expectations and brings a wider view of how the world survives. It highlights assumptions about human nature and morality that come out of the genre, and shows that humanity can respond in more than one way.
I read the book in a single day, unable to stop reading for long. I'm hesitant to go into spoilers, but it was a book I didn't realize I needed. Compared to the post apocalyptic fiction I grew up with, this has much more hope to it without ignoring the dark side of humanity. 
This book is the first in a trilogy, but stands alone well. The second installment, The Book of Etta, is now available. The third, The Book of Flora, releases April 23rd. So you have time to tear through the first two in time for the third. 
Follow us online: