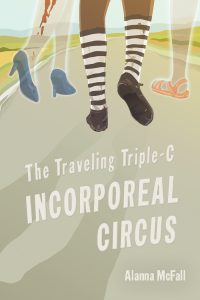 The Traveling Triple-C Incorporeal Circus (Atthis Arts, LLC, 2019) by Alanna McFall is the story of a road trip unlike any other road trip you've ever experienced. As two ghosts and a mute woman who can communicate with ghosts travel from New York City to San Francisco, they learn about each other and themselves, all while dealing with other ghosts and the darker side of the spirit realm.
Chelsea was looking forward to her brother's wedding before she died, and her desire to see him married continues with her into the afterlife. Since she can't take conventional transportation as a ghost (which is cleverly explained within the novel), she decided to walk across the country to be there, even if her brother and her family won't realize she's there. Her friends, Carmen and Cyndricka, don't want her to go alone, so they make the walk with her–Carmen as her mentor, and Cyndricka so she can visit family in Reno.
What follows is a rollercoaster of friendship and peril, bonding and the unknown. As the three women make their way across the country, each of them changes and grows, perhaps none more than the protagonist, Chelsea. Their adventures will keep you reading more than you might have planned in a single sitting, so be forewarned!
A clever juxtaposition of the absurd and the everyday, The Traveling Triple-C Incorporeal Circus by Alanna McFall will take you from laughter to the verge of tears and have you rooting for her incredible and unconventional heroines all along the way. This book will be available on June 4, 2019, and you can pre-order it now!
The publisher provided us with a free copy of this novel in exchange for review consideration.
Follow us online: