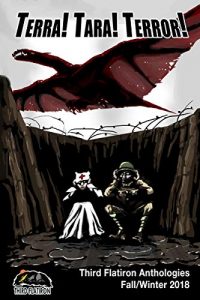 Terra! Tara! Terror! (Third Flatiron Publishing, 2018), edited by Juliana Rew, is an anthology of sci-fi, fantasy, and horror short stories, with a couple of humorous pieces thrown in at the end. The anthology's theme is somewhat loose, giving this collection a wide range of stories.
My personal favorites in this anthology leaned a bit toward the darker stories, but also those stories that combined darkness and beauty. E. M. Sheehan's take on Edgar Allan Poe's poem "Annabel Lee," entitled"Annabel and Edgar," is both gorgeous and creepy, and gives a plausible explanation for Poe's madness in the last days of his life. I also adored K. G. Anderson's "Captain Carthy's Wife," which was a lovely dark twist on a selkie story.
One of my other favorites was on the opposite end of the spectrum. "Winter War" by Samuel Chapman has a slightly dark underbelly, but the thought of supernatural creatures running a holiday market and warring over customers was a delight.
Other stand-out stories for me were "The Dance of a Thousand Cuts" by Liam Hogan, which has a stellar opening line and then follows through on the promise of that line. Kiki Gonglewski's "All the Moon's Children" was simply gorgeous writing and plotting, with evocative description that pulled me right into the story. And "My Lady of the Park" by Blake Jessop was a great mix of a steampunk setting with a plot slightly akin to Cyrano de Bergerac.
As is the case with most anthologies, there are likely to be some stories that readers love more than others, and perhaps some that don't really resonate with them. The introduction to this anthology mentioned which ones fall into each genre, so if you prefer to avoid the horror stories, it's easy to do. So if you're looking for great stories from various areas of speculative fiction, Terra! Tara! Terror! is a good place to look!
The publisher provided us with a free copy of this novel in exchange for review consideration.
Follow us online: