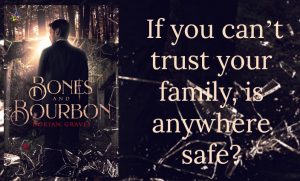 Bones and Bourbon (Ninestar Press, 2018) by Dorian Graves is a wonderful take on the urban fantasy genre. Chronicling the adventures of brothers Retz and Jarrod Gallows, this book is equal parts hilarious and a great commentary on the trials and tribulations of families.
Retz and Jarrod Gallows are both hulderkind, with one mortal parent and one huldra parent. But while Jarrod simply has the increased strength and stamina of the huldra, Retz has far more problems than just his missing internal organs. He's got a spiritual co-pilot, a creature named Nalem who gives him the abilities to control bones but also sometimes causes him serious headaches. Add in an amnesiac who doesn't like guns, a couple of furaribi, some Fae and other supernatural creatures, and carnivorous vengeful unicorns, and you've got a cast perfect for this rollicking tale.
If I had one complaint about the book, it was that the story switched between Retz and Jarrod's points of view. The way it did so made a lot of sense, but it meant that if I wasn't keeping close track of which brother's perspective I was on at any given moment, I sometimes was confused. However, reading a little further always cleared up the question—the two brothers are written with distinct voices, and it was only my lack of focus that confused me.
If you're a fan of Supernatural, but you wish they had done less queer-baiting and included more actual queer content, you're going to love Bones and Bourbon. I'd also recommend this book to fans of The Dresden Files who want their heroes to be a little less average white guy and a lot more interesting.
The author provided us with a free copy of this novel in exchange for review consideration.
Follow us online: