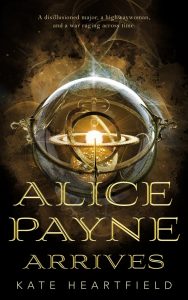 Time travel can be tricky. But Kate Heartfield's Alice Payne Arrives (Tor, 2018) handles the topic deftly. This novella is a clever tale of time travel across multiple timelines with a firm grasp of the consequences of mucking about with history.
The titular character, Alice Payne, lives in England in 1788, making a living as a highwayman with the assistance of her paramour, Jane, who is a talented inventor. Things go awry when a portal to another time opens, whisking away one of Alice's problems. But it turns out that it's actually worse for Alice that the problem is gone. Meanwhile, Prudence Zuniga is trying to keep history from going awry by changing the course of events in 1889. When that fails (seventy plus times), she's finally brought back to the twenty-second century, told to give up on that change, and focus on another instead. And that's where Alice and Prudence's timelines intersect, leading to both women trying to determine the best way to achieve their personal goals, protect the people they care about, and save the world in the process.
This novella is a quick read with fantastic characters that is sure to leave you wanting more. The good news is that there's a second book planned, so you won't have to wait too long to find out what happens next. Alice Payne Arrives releases on November 6, 2018, and Alice Payne Rides (the sequel) will be out in March 2019. So if you like your speculative fiction with a little bit of steampunk and a little bit of science fiction, all tied up with a time travel bow, you'll want to check out Alice Payne Arrives!
The author provided us with a free copy of this novella in exchange for review consideration.
Follow us online: