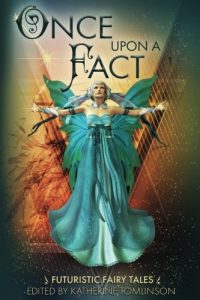 Once Upon a Fact (Wildside Press, LLC, 2018) is a collection of 18 retellings of fairy tales and other traditional stories with a science fiction twist, edited by Katherine Tomlinson. In stories that are both familiar and unfamiliar, these authors envision what fairy tales of the future might look like.
As is the case with many retellings of fairy tales, there are always some original stories that I'm familiar with, while others are new to me. "The Seed Stitch Solution," by Ginn Hale, is beautifully written, but I'm not familiar with the story it's based on (The Match-Stick Girl), so I suspect that some of the parallels are lost on me, though that didn't stop me from enjoying the story. "The Girl with the Cybernetic Hands," by John Donald Carlucci, is based on another fairy tale I don't know (The Girl with the Silver Hands), but it has great worldbuilding and characterization that sucked me in.
Some of the other stories that I really loved were based on stories that I know and love. "How to Marry off Your Human," by Shauna Roberts, is an absolutely adorable retelling of Puss in Boots, and "Alice through the Snapface Filter," by Megan McCord, was an insightful modernization of Alice in Wonderland. I also loved the retelling of Sleeping Beauty, "The Artifact on Svijet Five," by Kat Parrish, which has its own mythmaking, as the characters concoct a sort of fairy tale to clear up what they've done. And "Ella and the Ball," by Kaye George, is the most wonderfully twisted retelling of Cinderella I've ever seen done!
Fairy tale and sci-fi lovers alike are likely to find something to love in Once Upon a Fact!
The publisher provided us with a free copy of this novel in exchange for review consideration.
Follow us online: