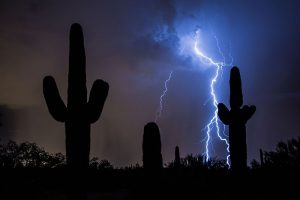 Author Nathan Crowder is an MSJ alum, who has had stories included in previous anthologies and the magazine. Now he's back for Battling in All Her Finery with "Swing That Axe," which we're talking to him about today.
DV: Tell us a bit about yourself!
Nathan Crowder: Despite a few decades living in the Seattle area, I still identify as a bit of a cowboy due to my upbringing in the Four Corners region of the Southwest, defined by rugged individuality, love of thunderstorms, the smell of pinon and Hatch green chile. To that end, I periodically wear a straw cowboy hat un-ironically and make it work, the memento of a regional rodeo I went to with friends a few years ago. I've written across a variety of medium and genre, but most stories tend to gravitate towards blue-collar heroes who do the right thing under difficult circumstances. I have a particular love for comic books, urban planning, history, and the movie Streets of Fire, much of which contributed to me creating the world of Cobalt City in which I (and several other authors) write superhero novels and short fiction.
DV: What inspired you to write "Swing That Axe" for Battling in All Her Finery?
NC: I've written a lot of stories inspired by music, some more directly inspired than others. I love music. I listen to it while I work, while I write, and sometimes while falling asleep. Somewhere in there, I had the thought about someone who rocked so hard they split the sky. Thinking about what that meant and where I could go with that gave me the foundation to my story. I set it in Tucson because of my enduring love of the SW, and also because one of my favorite bands happens to be from there.
DV: If you had to choose a band (or several) that are most like the band in "Swing That Axe" in terms of sound, who would you pick?
NC: The thing about Brujah is that they don't sound like anyone else (though I imagine Mars Volta might have a bit in common in some aspects). When I think of the prog rock that inspires me, the three bands that come to mind are Coheed and Cambria, Porcupine Tree, and Mastodon. Interestingly Coheed and Cambria's song "Atlas" provided the key to unlocking my "Madjack" story that appeared in the Behind the Mask anthology last year.
DV: Without too many spoilers, your story ends on a note that there is more to come. Do you plan to return to these characters or setting in future stories?
NC: I don't know if I'll return to those characters, but the story does subtly connect to the Cobalt City universe, so it's anyone's guess.
DV: What's on the horizon for you?
NC: Speaking of Madjack, she's one of the huge cast of characters appearing in my novel Cobalt City: RESISTANCE, which comes out early October. It's a sweeping story of heroes, villains, and vigilantes having to decide where they stand and what they stand FOR when a tyrant rides a wave of simmering hatred to become President of the U.S.A. It's a big turning point in the Cobalt City universe, the repercussions of which ripple down through the monthly short fiction I'm writing for backers of my Patreon.
Thanks, Nathan!
Follow us online: