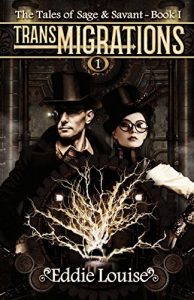 Transmigrations (EDGE Science Fiction and Fantasy Publishing, 2018) is the debut novel by Eddie Louise and the first in the Tales of Sage and Savant series, inspired by the Sage and Savant podcast. The novel is based on the adventures of Doctor Petronella Sage and Erasmus Savant, who travel throughout time by jumping into other bodies. Their chronicler, Justin Bremer, deals with adventures of his own in the far future, fueled by learning more about Sage, Savant, and the mysterious organization that hired him to be their chronicler.
Because the novel and the podcast are closely related, the plot of the story has a fairly episodic structure, which makes it feel, in places, like a series of short stories connected by a larger frame story. Since the stories are sequential, they do allow for the development of the characters from story to story, which leads to all sorts of mayhem when Sage and Savant wind up in bodies that are not always capable of human speech. The frame story injects elements of espionage and science fiction into this steampunk environment.
If you enjoy steampunk technologies and mad science, you'll be likely to find something you love in Transmigrations. I will warn that it ends on a bit of a cliffhanger, and you're going to want to translate some Morse code when you reach the end of the book!
The publisher provided us with a free copy of this novel in exchange for review consideration.
Follow us online: