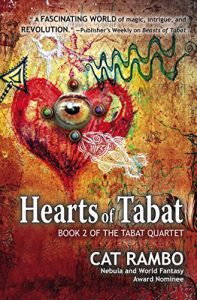 Several of our MSJ alumni have recently released books that may be of interest to our readers.
Cat Rambo has released the second book in her fantasy Tabat Quartet Series, Hearts of Tabat. Though this is the second book in the series, Cat says that you won't need to have read the first book in order to enjoy this one, as either book serves as an introduction to the series.
Calvin Demmer has released a collection of short stories titled The Sea Was a Fair Master, which also includes an introduction by MSJ alum Gwendolyn Kiste. Though the stories are primarily horror, there are also some fantasy, crime, and science fiction mixed in. The collection includes "The Snakes or the Humans?", which was published at MSJ in March 2017.
Chris Vander Kaay is one of the authors of a non-fiction book called Indie Science Fiction Cinema Today: Conversations with 21st Century Filmmakers.
Kevin Holton's debut novel, At the Hands of Madness, was released by Severed Press this January. A psychic kaiju walks the Earth, and a team of misfits, lab accidents, and social rejects are the only ones able to keep it from destroying their city. And his newest novel, These Walls Don't Talk, They Scream, is available now from HellBound Books. In this book, Charlotte moves back to her childhood home to learn about her past and reconnect with the presence living in the house's walls. This being may not be the guardian angel she remembers.
Follow us online: