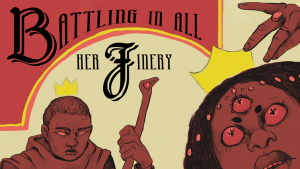 We posted this to the Kickstarter at the end of May, but we decided to share it here as well!
We've received the last of the contracts back from our authors, so we can now announce the table of contents for Battling in All Her Finery. The stories are listed alphabetically by the authors' last names; the final story order is still to be determined.
"Unbroken" by Elisa A. Bonnin
"Chasing the Wombship Echidna" by L. Chan
"Swing That Axe" by Nathan Crowder
"Caro Cho and the Empire of Light" by Lin Darrow
"There is Only the War" by A. J. Fitzwater
"Iron Out of Vulcan" by G. Scott Huggins
"Pop Magic" by Patrick Hurley
"Cuirassiere" by Blake Jessop
"The Dissolution of the Niamh" by Alisha A. Knaff
"Cassiopeia, Queen of Ethiopia" by Aimee Kuzenski
"Aquarius Ascendant" by Christine Lucas
"The End of the World" by Matt Moran
"Self Selection" by Mathew Murakami
"Dropping Rocks" by Jennifer R. Povey
"The Leximancer's Rebellion" by Jennifer Lee Rossman
"Adelita" by Frances Sharp
"The Weeping Bolo" by D. A. Xiaolin Spires
"Breath and Roses" by Leora Spitzer
"The Dishonorable God" by Priya Sridhar
"Why we are standing on the broken wall, clutching swords too rusty to take an edge" by Tais Teng
"Paladin" by Shirley Vogel
For those who are interested in the statistics, we received 143 submissions for this anthology, considerably fewer than we received for our last anthology, Utter Fabrication. We accepted 21 of those stories for the anthology, and we are purchasing 4 additional stories (at our normal rates) for Mad Scientist Journal.
Of the 143 submissions, 78 of them (more than half) came from authors who identified as women. We also received 11 stories from authors who identified as non-binary or for whom we could not determine a gender based on their name. For the narrators, 115 of the stories had a female-identified narrator, while 10 additional stories had either a non-binary narrator or a narrator for whom gender could not be determined.
In the past, we've been able to say that we received X zombie stories, Y werewolf stories, etc. In this case, we received such a diverse bunch of stories that it's hard to pinpoint categories for our narrators. We can say that the largest groups represented were military women and noble women–so the warriors and the princesses, broadly defined.
We're currently editing the stories, and in the next few weeks, we'll be selecting the order and receiving pieces of interior art. We're well on track to have the book put together in the early fall!
Follow us online: