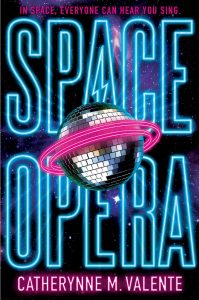 Space Opera (Saga Press, 2018) is the latest book from Catherynne M. Valente. The tagline for the book–"In space, everyone can hear you sing"–had me hooked from the moment I read it, and this book delivers on that promise and gives so much more.
Yesterday's-darling rock star Decibel Jones, of Decibel Jones and the Absolute Zeroes, finds his former band on a list of possible musical acts from Earth to play at the galaxy's version of Eurovision, and the fate of the planet hangs in the balance. Since all of the other musical acts on the list aren't available, mostly due to their deaths (apparently the alien races are a bit out of touch with current Earth music), he has to get the band back together, a task that is complicated by the way the band ended.
The book alternates between the present day storyline, flashbacks, and information about the alien races and previous Grand Prix musical competitions, all with a laugh-out-loud narrative style. Many people have compared Space Opera quite favorably to The Hitchhiker's Guide to the Galaxy, and I'd agree wholeheartedly with that assessment. Except (and no one tell Douglas Adams I said this) Space Opera is even better. Especially if you're a music lover.
If you love music, humor, and a quirky writing style, you'll definitely want to check out Space Opera!
Follow us online: