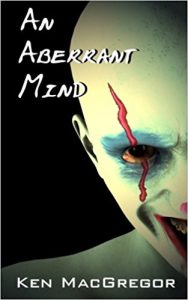 An Aberrant Mind (Sirens Call Publications, 2014) is a collection of very short horror stories by author Ken MacGregor. This book collects 22 short stories, which range in length from just a couple of pages to more traditional short stories. Because some of the stories are so short, it means there isn't always much in the way of character development, but rather a scrambling, desperate clawing to not go down so quickly.
Many of the stories feature horrible things happening to the characters within, but the big distinction in the stories is how the characters react to their circumstances. Some are appropriately horrified, while others try to fight the inevitability. "The Abduction of Glynnis Johnson" is an example of the latter type, and one of the stories I enjoyed the most in this collection, as a retiree faces one of the Great Old Ones.
"Protégé," one of the longer pieces in this collection, is a bit of a slow burn, where you know that something awful is going to happen, but it takes its time getting there, making it all the more torturous. Not all of the stories are completely terrifying, however; "SeaWolf" and "Arctic Wolf," featuring the same main character, are much more humorous romps.
If you're a fan of horror stories, especially ones that can be read quickly and occasionally feature flashes of humor, you'll enjoy An Aberrant Mind.
The author provided us with a free copy of this novel in exchange for review consideration.
Follow us online: