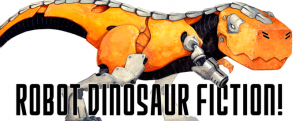 The world needs more weird fiction, and this Kickstarter project, which promises a story of robot dinosaurs to read for free every week this summer, fills that niche!
In addition to publishing the stories online, there will also be an anthology, and if some of the stretch goals are reached, they'll be looking for more stories of robot dinosaurs! The initial lineup of authors already looks spectacular (including MSJ alum Alexis A. Hunter), and the bigger this project gets, the more likely it will be to attract even more talent.
The Kickstarter for this project runs through May 24th, so be sure to check it out if you, too, would like more robot dinosaur stories in the world!
Follow us online: