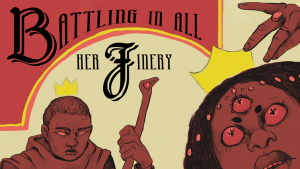 We've reached the final day for our Kickstarter for Battling in All Her Finery! If you'd like to celebrate with us, pop over to our Facebook event tonight at 7 p.m. Pacific time, for a livestream with our herd of Feline Interns!
Also if you've backed our Kickstarter, are you also a backer on our Patreon? Folks who back in both locations get special perks–postcards featuring the interior artwork if you back the Kickstarter at any level, and a fancy bookplate signed by the editors if you back at any level that includes a physical book! The Patreon is also a great way to subscribe to the quarterly Mad Scientist Journal. You can check it out here!
Tomorrow, we'll open to submissions for stories for Battling in All Her Finery. You can find the guidelines here, and the submission portal (which is different from our usual submission portal) will be here.
And finally, if you were waiting until the last minute to back, it's here. It's the last minute! Here's the link to the Kickstarter!
Follow us online: