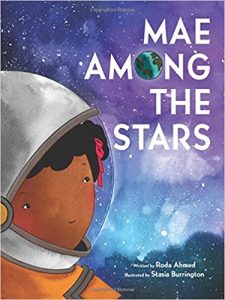 Our Kickstarter for Battling in All Her Finery launches tomorrow, but if you're looking for something to read about a woman leader today, check out Mae Among the Stars by Roda Ahmed, illustrated by Stasia Burrington.
Inspired by the story of Mae Jemison, the first African American woman in space.
When Little Mae was a child, she dreamed of dancing in space. She imagined herself surrounded by billions of stars floating gliding and discovering.
Follow Mae as she learns that if you can dream it and you work hard for it, anything is possible.
It's a picture book for 4-8 year olds, but even if you're an older reader, it's a delightful story with lovely illustrations.
Follow us online: