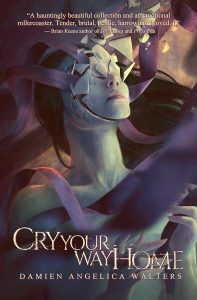 Cry Your Way Home (Apex Publications, 2018) features seventeen of Damien Angelica Walters' previously published short stories in a brilliant collection showcasing her beautiful prose and carefully plotted tales. Not for the faint of heart, the stories contained within this book veer frequently toward the creepy and unsettling.
The opening story, "Tooth, Tongue, and Claw," sets the stage for what is to come, telling the story of a secondborn daughter who is given to a monster so that her people can enjoy their continued well-being. Many of Walters' stories involve female protagonists who struggle against the circumstances that life has brought them. And not all of those stories have happy endings, either.
Among my favorite stories in the collection were "Deep Within the Marrow, Hidden in My Smile," "S Is for Soliloquy," and "Umbilicus." The first of these stories examines the relationship between stepsisters, but goes in an unexpected direction. "S Is for Soliloquy" starts out innocently enough, but the twist in this story is absolutely fantastic. And "Umbilicus" is creepy and atmospheric, while still having just enough touches of realism to keep it grounded.
If you're a fan of spooky stories and well-crafted prose, Cry Your Way Home is the book for you. Cry Your Way Home is available for pre-order at Apex Publications or Amazon and other booksellers, with a release date of January 2, 2018.
The publisher provided us with a free copy of this novel in exchange for review consideration.
Follow us online: