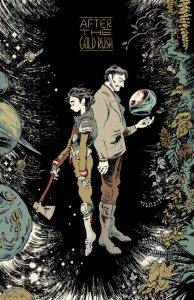 We recently came across a few comics that might be of interest to mad scientists, by Seattle author Miles Greb.
His comic After the Gold Rush involves the last scientist, Scout, returning to Earth to study it, but finding it a wilderness rather than a place of high technology. The story also deals with the conflict between religion and science. In addition to being available as a regular comic book, After the Gold Rush also has a webcomic version, which takes place prior to the events of the regular comic book run. You can follow the webcomic here and through the author's Patreon.
Also of interest is Clovis, a graphic novel that follows the story of a woman in North American in 12,000 BC. The artwork in the preview looks gorgeous, and from what we've heard of the story, it sounds fantastic!
If either of these titles sound interesting, or if you'd like to see other comics that are in the works, check out Miles Greb's webpage here!
Follow us online: