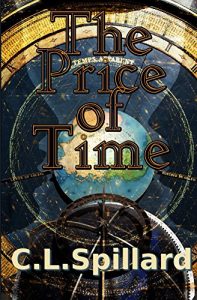 This month's mad scientist alum news brings us novels, short stories, translations, and honorable mentions!
Candida Spillard has a new novel, The Price of Time, available in print and for Kindle, under the name C. L. Spillard.
Caroline Yoachim had three stories published in anthologies in September: "Faceless Soldiers, Patchwork Ship" in Infinity Wars (Solaris, 2017), "Dreams as Fragile as Glass" in The Sum of Us: Tales of the Bonded and Bound (Laksa Media Group, 2017), and "Dancing in the Midnight Ocean" in Oceans: The Anthology (Holt Smith, 2017).
S. Qiouyi Lu translated "Möbius Continuum," by Gu Shi, for the September issue of Clarkesworld.
Seven MSJ alumni have stories on Ellen Datlow's honorable mention list for the Best Horror of 2016. They are:
Crich, Kelda "Jorōgumo," Weirdbook #32.
Dorei, Megan "Glass," Dystopia Utopia.
Eikamp, Rhonda "Some Pictures of Monsters," The Dark 15.
Guignard, Eric "The Inveterate Establishment of Daddano & Co.," Nightscript II.
Kiste, Gwendolyn "Reasons I Hate My Big Sister," Nightscript II.
Tanquary, Nicole "In a Room," Not One of Us 56.
Ward, Marlee Jane "The Beasts and the Birthday, " Aurealis #90.
Follow us online: