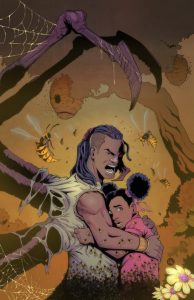 Greg Anderson-Elysee is crowdfunding a sequel to his graphic novel, Is'nana the Were-Spider. We backed the first volume and loved it, and we're super excited to see this sequel available on Kickstarter. The titular character is the son of Anansi the Spider, who has come to our world and accidentally opened the way for otherworldly threats to follow him.
These books offer a modern take on West African and Caribbean mythology, seeking to continue the legacy of Africana and Black-based folklore and mythology. The first book pitted Is'nana against Osebo the Leopard, and this installment brings in Queen Mmboro, Princess Kantite, and their family of hornets, wasps and bees.
This Kickstarter aims to not only create volume 2, but bring volume 1 back into print.
Anderson-Elysee brings a very fresh voice to the medium, and we encourage you to check out the work he and his team are creating. It's running until October 25th, and they've already hit the ground running. You can check it out here.
Follow us online: