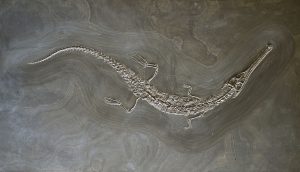 Just when you thought science couldn't get any cooler, paleontologists recently reexamined fossil evidence of a prehistoric giant crocodile and determined that an additional species had been identified in the fossil record. They also decided to give this crocodile an awesome name: Lemmysuchus obtusidens.
The Lemmysuchus portion of the name means "Lemmy's crocodile," and the Lemmy referred to is none other than the former front man of legendary metal band Motorhead, Lemmy Kilmister. Lemmy passed away at the end of 2015, and the scientists who gave this newly identified species its name felt that this would be a fitting tribute to him.
You can read more about "Lemmy's crocodile" here or here. If you have access to academic publications, you can read more in the Zoological Journal of the Linnean Society.
Follow us online: