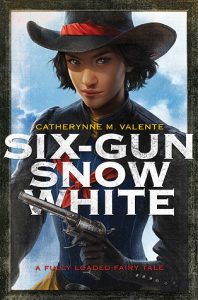 Six-Gun Snow White (Subterranean Press, 2013; reprinted by Saga Press, 2015) by Catherynne M. Valente is a brilliant retelling of the story of Snow White set against an Old West backdrop. But the story is also more than a retelling, deftly weaving bits of Native American stories into the familiar tale.
In this version of the story, Snow White is the daughter of a white man and a Native American woman. When her father later marries, in comes the wicked stepmother, who treats young Snow White horribly, subjecting her to both physical and verbal abuse. Ultimately, Snow White leaves home behind, but her past still follows her. There's a huntsman hired by her stepmother and a fantastic new take on the Seven Dwarves, as well as characters who didn't have a part in the original tale, but who fit into this one seamlessly.
I'm a huge fan of Valente's prose, and this book is no exception. It's masterfully written, and though the plot twists can get weird in places, the writing is always perfect for the situation. In relation to her other books, this one is closer to Palimpset than the Fairyland books, so it's really not a book for children, despite having a fairy tale at its core. But if you're a fan of Valente's writing, dark fairy tales, stories of the Old West, Native American tales, or any combination of these things, you'll enjoy Six-Gun Snow White.
You can find a copy of Six-Gun Snow White on Amazon or through the publisher's website.
Follow us online: