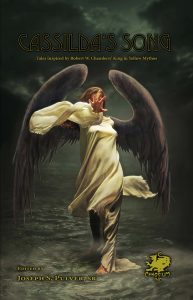 Cassilda's Song (Chaosium, 2015), edited by Joseph S. Pulver, Sr., contains 18 tales of the mythos of the King in Yellow, all written by female authors. These stories explore many facets of Cassilda, one of the characters from Robert W. Chambers' The King in Yellow collection of short stories. As Chambers' stories and the purported apocryphal play revolve around madness induced by contact with the King in Yellow, so too do the stories in this anthology.
At the same time, however, some of the stories celebrate the power that Cassilda and her namesakes possess. In "Yellow Bird" by Linda E. Rucker, the main character discovers an old book inside an abandoned house, which unlocks strange power in her. The writing on this story was fantastic, and I really liked the protagonist and her quick thinking. "Her Beginning is Her End is Her Beginning" is a collaboration between E. Catherine Tobler and Damien Angelica Walters, both of whom have solo stories in the anthology as well. It clocks in as easily the longest story in the anthology, but it's so beautifully written as to hold your attention for the entire story, and presents an interesting take on Cassilda.
Other stories that I particularly liked shared a theme of reconnection with aspects of Carcosa. In "Dancing the Mask" by Ann K. Schwader, the protagonist is an injured dancer, down on her luck. Though perhaps her luck isn't improved by reconnecting with the mythos, it does at least give her a place in the world again. And "Family" by Maura McHugh weaves a tale of a normal family that has been touched by the play The King in Yellow and the strife that ensues. The main characters, a pair of siblings, are particularly well-rounded and relatable.
As is the case with many anthologies, some stories will resonate more strongly with different readers. But all of the stories in the anthology are well written and interesting, and you're certain to find a favorite or several amongst the bunch. Cassilda's Song is available directly from Chaosium on their website or at other booksellers like Amazon.
The publisher provided us with a free copy of this publication in exchange for an honest review.
Follow us online: