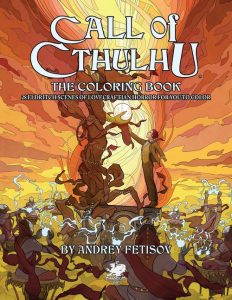 Today, we're venturing into new territory for Mad Scientist Journal, as co-editor Dawn and illustrator Leigh share their thoughts on the Call of Cthulhu coloring book from Chaosium. While Dawn has been reviewing prose books for a while, this is her first attempt at reviewing a coloring book. And while she certainly likes coloring and coloring books, she's more of a digital artist than a traditional artist. Leigh, on the other hand, makes all kinds of art, and as soon as she saw the coloring book, her eyes lit up like it was Christmas. So we decided to share both of their opinions on what makes this coloring book fun for us!
Dawn says: I do most of my coloring with crayons (twist-up Crayolas) and colored pencils (in this case, non-name brand, eco-friendly colored pencils that Leigh gave me). So when I saw the tiny little spaces on some of the coloring pages, I was sure that I couldn't do much with those–that level of details calls for very fine pointed markers or extremely sharp colored pencils. But other pages have slightly less detailed images, so I stuck with one of those for my test coloring.
The images themselves are fantastic, and cover all sorts of Lovecraftian stories, including those by H. P. Lovecraft himself and those by related authors. And I LOVED the paper quality–nice and smooth, but still reasonably thick. Heavy or dark markers might still show through the pages (and this coloring book is printed on fronts and backs of pages), but in general, the paper is the sort I like to find in my coloring books.
I'm still eyeballing the complicated pages (including the one that's got a monster covered in eyeballs). Someday, I'll give that a shot, but I'm not quite there yet!
Leigh says: I'm a sucker for good lineweight, so I was totally charmed by the artwork in this book–nice, clean, intentional-looking lines with great variation in width. The illustrations looked like they were actually made for this book and not just hastily traced from previously-made images, like you'd find in a lot of the coloring books in circulation now.
There was also variation in the actual opacity of the lines, which is something I don't remember seeing before. I loved the idea and wondered if markers would have layered nicely over the not-quite-black lines and colored them a little bit. I was using Prismacolor colored pencils, however, and some of the more opaque pigments obliterated those lines when I wasn't careful enough.
The images themselves are absolutely amazing. I don't often find a coloring book where I don't have a big pile of complaints about the illustration work at its core. These pictures are satisfyingly complicated and disgusting!
Ultimately, my thoughts are: if you are either a meticulous colorer or love challenges, and have been yearning for some good horror/monster art to enjoy, this book will be right up your alley.
You can pick up your own copy of Call of Cthulhu: The Coloring Book from Chaosium!
The publisher provided us with a free copy of this publication in exchange for an honest review.
Follow us online: