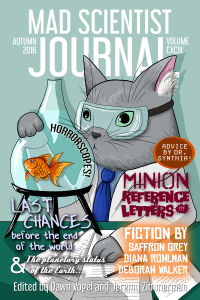 The end of the world, holiday letters, and the state of mad science in 2016. These are but some of the strange tales to be found in this book.
Mad Scientist Journal: Autumn 2016 collects fourteen tales from the fictional worlds of mad science. For the discerning mad scientist reader, there are also pieces of fiction from Saffron Grey, Diana Rohlman, and Deborah Walker. Readers will also find other resources for the budding mad scientist, including an advice column, horoscopes, and other brief messages from mad scientists.
Authors featured in this volume also include Darci Vogel, Aaron Moskalik, Alanna McFall, Mickey Hunt, Soren James, E. B. Fischadler, Daniel Hudon, J R Hampton, Church Lieu, Michael Rettig, Alan Meyrowitz, Dana Mele, Shane Landry, Emma Tonkin, Laura Roberts, David Perlmutter, J. M. Kennett, Loria Chaddon, Constance Flux, Kate Elizabeth, and Torrey Podmajersky. Art provided by Ariel Alian Wilson, Katie Nyborg, Shannon Legler, Amanda Jones, Errow Collins, Luke Spooner, Scarlett O'Hairdye, Ariel Alian Wilson, Justine McGreevy.