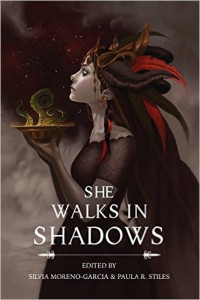 A review by Dawn Vogel
She Walks in Shadows (Innsmouth Free Press, 2015) is an anthology of stories set within the Lovecraftian Mythos, all of which are written by women. While all of the stories contain horror elements, they range between funny and truly terrifying, hitting all of the points in between.
With 25 stories included in the collection, some of which feature reimaginings of Lovecraft's own characters, while others explore uncharted territory within the Mythos, readers are sure to find something they love within the pages. Several of the stories stuck with me long after I finished reading the anthology, and some may linger in my nightmares for a very long time.
Amelia Gorman's "Bring the Moon to Me" involved a fascinating blending of computer programming and knitting, not necessarily two things that you would think of in conjunction. But it makes perfect sense in this story, and it makes me wonder what those coders and knitters at the local coffee shop might actually be up to. I also loved Jilly Dreadful's "De Deabus Minoribus Exterioris Theomagicae," a story told in the form of an outlined set of notes that reminded me of my grad school days (except the books I was reading at the time weren't nearly as interesting as the one in this story). And while the strange and eldritch book is perhaps a trope in Lovecraftian tales, this is a fresh take on the presentation of such.
"Lockbox," by E. Catherine Tobler, is definitely one of the stories that stuck with me. With a creepy ruin of a house and a woman who may or may not exist outside of dreams, this story is quite haunting. Another fantastically creepy story is "Hairwork," by Gemma Files. Though the beginning is somewhat slow, and the point of view changes take some work to follow, the story picks up the pace and turns out to be a wonderful tale of righteous vengeance.
Two other stories, on opposite ends of the spectrum of how pervasive the Mythos is, round out my list of favorites. Laura Blackwell's "Bitter Perfume" is a lovely, touching story about family, yet the connection to the Mythos is only slight. Meanwhile, "The Cypress God," by Rodopi Sisamis, is set in a world where Mythos deities have their own church and shrines. The characterization in this particular story absolutely floored me, and it worked perfectly with the setting.
She Walks in Shadows is a fantastic read from start to finish, and despite my mention of only a handful of the stories, all of them were well written and interesting. The anthology will be available on October 6, 2015, but can be pre-ordered on the Innsmouth Free Press website: http://www.innsmouthfreepress.com/blog/books/she-walks-in-shadows/
Follow us online: