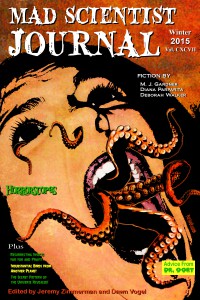 Our newest quarterly is now available via Amazon and Smashwords! It features exclusive content from Deborah Walker, Diana Parparita, and MJ Gardner, advice from Dr. "Oort" Cloud, and Horrorscopes!
You can also buy it and the other 11 issues of Mad Scientist Journal as an add-on reward in our Kickstarter for only $15!
In time, the book will be available through other ebook retailers, but that has been delayed by some problems with Smashwords.
Follow us online: