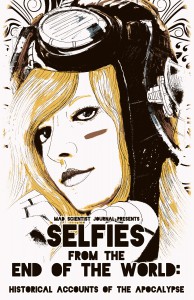 We're a little more than half way through our funding period for our Kickstarter, and we've passed the 80% mark in terms of backers. Assuming nothing goes wrong, we will be opening for submissions for the anthology starting March 1st and going through the end of the month. So we thought we'd get people thinking about what they might submit if we fund.
The anthology, Selfies from the End of the World, will be a collection of stories about the apocalypse and post-apocalypse told from the point of view of people experiencing the end of the world. In our Kickstarter description we provided a list of the sorts of stories we're hoping for:
A report from an angel harvesting the faithful at the Rapture and running into trouble.
A man trying to apologize to his boyfriend in the brief span of time available before the bombs hit.
Zombie outbreaks in the heart of Tokyo.
The narrative of a survivor of a breach in space and time, recounting her life in the a shattered world where time is meaningless.
A war reporter on the front lines of Ragnarok.
Two women and their adopted child struggling to survive in the flooded out ruins of Mumbai after global warming destroys the world economy.
Survivors in the Amazon basin after genetic engineering turns the rain forest into a warren of carnivorous plants.
To refine that a bit, what we are really hoping for are stories that are not the usual apocalypse stories. We want stories that have a different protagonist than we normally see, take place in a different setting than we are normally presented with, or in some other way push beyond the usual tropes. This isn't to say we will turn down stories about straight white men in the ruins of the United States, but there are so many possibilities for stories outside of that box that we hope people will send them to us.
We would also like to hear from new voices. Not only would we like to have a diverse roster of writers submitting to us, but also writers who haven't been published before. We have been the first publication for many of our authors, and we would like to continue that trend with Selfies from the End of the World. We'd like to encourage our regular readers to help boost the signal and bring a broad range of writers to our submissions page.
Follow us online: