An essay by Jane Meadows, as provided by Judith Field
Art by Justine McGreevy
---
"Jane, that mad woman's here again," says Ben, my summer student pharmacist, looking out of the dispensary into the shop.
"Keep your voice down!" I hiss, following his gaze. A woman in her mid-thirties stands by the counter. I think she must be an albino. She has white hair and skin with a pearly, translucent quality, as though, if I look at her for long enough, I'll be able to see right through it to the muscles, the blood vessels, even the bones. Oval mirror glasses cover most of the upper half of her heart-shaped face, obscuring the pink eyes I imagine lie underneath. When she speaks, it's with a hard-to-place foreign accent. More of an intonation, really, just a clue that English isn't her first language. She wears her usual white blouse, red skirt and matching jacket. On the lapel is a badge: "Priyanka Wong, Bewley Homes."
Bewley Homes built a new housing estate on the wasteland at the other end of the High Street from the pharmacy. All the roads on the estate are called after birds, mainly water fowl–Avocet Mews, Goosander Way, Widgeon Path–affordable homes, if you didn't mind living on a former industrial site where a permanent gale blasts off the river. They started building the estate around the same time that Alan and I managed to force our ageing fledglings out of the nest and decided to downsize. We went to look at a house configured like a cereal packet–tiny rooms with high ceilings, in Whinchat Lane, just off Merganser Gardens.
Shortly after that, Bewley's went bankrupt and the site closed. I see Watson, the estate manager from time to time, spending the creditors' money on cheap aftershave and flavoured condoms. Priyanka appeared after the firm went bust. I've seen Watson talking to her, standing too close, red-faced.
She tells us that the Receivers keep her on to try to sell what they built. But she doesn't seem to have shifted any and the site is still locked up. Today she stands at the counter holding a piece of paper. From a distance it looks like a letter or a shopping list.
"Don't leave her there, it's not like we're busy," I say to Ben. All our druggy patients have been in, gulped down their "script"–their methadone–and left. The school run is over and it's too early for the geriatric bus-pass jockeys.
Ben brings the paper back into the dispensary. "Have we got this? Can't read it."
A private prescription, written on fancy letterheaded paper from a psychiatric unit I'd never heard of before Priyanka started bringing them in. Unlike the usual National Health Service computer-generated jobs, it's hand-written. Three different antipsychotic drugs.
I nod. "It's the same as she always has. Make sure you make a note of it. Then you can tell me how long the law says we have to keep the private prescriptions."
Ben starts writing. The last six entries in the book, stretching back over the same number of months, have been for Priyanka Wong. Identical prescriptions. Nobody else round here can afford private medicine.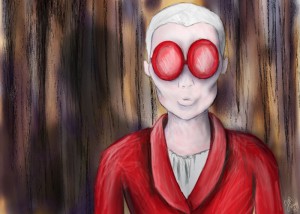 ---
To read the rest of this story, check out the Mad Scientist Journal: Spring 2014 collection.
---
Jane Meadows is a pharmacist working in a community pharmacy shop in a windswept area of south London. She has two daughters, a son, a granddaughter, and a grandson and likes to spend what spare time she gets reading, knitting, and listening to music, sometimes all at the same time. She's recently begun singing lessons: she likes to belt out show tunes in the style of Ethel Merman. This account of the incident with Priyanka Wong forms part of her evidence to the Statutory Committee considering her possible suspension from the register for a breach of regulations.
---
Judith Field was born in Liverpool, England and lives in London. She is the daughter of writers, and learned how to agonise over fiction submissions at her mother's (and father's) knee.
Her fiction, mainly speculative, has appeared in a variety of publications in the USA and UK. She speaks five languages and can say, "Please publish this story" in all of them. She is also a pharmacist, freelance journalist, editor, medical writer, and indexer. She blogs at www.millil.blogspot.com
---
Justine McGreevy is a slowly recovering perfectionist, writer, and artist. She creates realities to make our own seem slightly less terrifying. Her work can be viewed at http://www.behance.net/Fickle_Muse and you can follow her on Twitter @Fickle_Muse.
Follow us online: