An extract from the papers of Professor D. E. Balcass, as provided by Mark Patrick Lynch
Art by Leigh Legler
---
First Published in Nature Medical Experimentation, 2237, as part of the "Clones In Exploitation" season, later broadcast on the BBC Wireless Services as part of the Christmas Lectures Series in the Public Understanding of Sciences/Social History promotion.
This extract from Professor D. E. Balcass's study of clones in the common workforce focuses on the strange and troubling uses of Professor Xavier Whitting's breakthrough in human replication, as recounted by his business partner, a certain Mr Addison-Whitt, whose notoriety is well known in the music business to this day. Although unverifiable in parts, the account does fit the facts as history and popular culture understands them.
Professor Balcass included the account in his papers as a warning about human nature, and how quick it is to exploit others. It is a salutary warning of what might have continued unabated in the general workforce had the Wilberforce 2 anti-exploitation laws not been passed by parliament in 2189.
#
Enough time has now elapsed that I might finally reveal my part in the whole sorry StepFor'd affair. Like the last grains of sand sliding from one bulb of an hourglass to the next, I feel my life slipping away. If I am to give an explanation–or perhaps some would see it as a confession–then it should be here and it should be now, before it is too late and the chance to do so has passed.
From the outset, I would have it known that I was not the sole creator of "the clone bands." However, I accept that turning the tide of public opinion so late in the day is no easy matter and that blame will be more easily laid at my feet–solely at my feet, if you will forgive the pun–rather than spread among those others involved. It is the way with the masses, and believe me, I should know the masses after I have spent so long exploiting them.
Yet the truth remains that I was not alone in my actions; I was not the only one responsible for what followed. My remaining hope is that people accept this. Perhaps, in time, it will be so.
The whole of what follows will be dispassionately relayed, dictated on my mechanical word-loom with an eye only for detail, neither recrimination nor redemption an aim. Just the truth.
This is my testimony.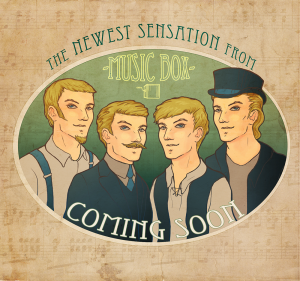 ---
To read the rest of this story, check out the Mad Scientist Journal: Spring 2014 collection.
---
Professor D. E. Balcass (b. 2142) currently holds the position of Emeritus Professor of Social Justice and Science, King's College, New Oxford. Although he lectures rarely these days, he still takes on the occasional public appearance, most notably in popular media presentations. He is perhaps most famous for his lobbying work on behalf of Clones' Rights. In Who's Who, he lists his pastimes as Fishing, Walking, and Dominoes. He was awarded an OBE in the King's New Year's Honours List, 2240, for services to science and humanity.
---
British writer Mark Patrick Lynch's short stories have appeared in various publications around the world, ranging from Alfred Hitchcock's Mystery Magazine to Zahir. On the internet, his work can be found on Daily Science Fiction, Perihelion, and Abyss and Apex. Several of his pieces have received honourable mentions in annual Year's Best summaries as notable tales of the year. His print book Hour of the Black Wolf is published by Robert Hale Ltd, while What I Wouldn't Give, a novella, is available for eBook. Don't be shy: find him at markpatricklynch.blogspot.com, or through his twitter feed @markplynch.
---
Leigh's professional title is "illustrator," but that's just a nice word for "monster-maker," in this case. More information about them can be found at http://leighlegler.carbonmade.com/.
Follow us online: