An essay by Abigail Perkins PhD, as provided by Kelda Crich
Art by Leigh Legler
---
In the light of the twinkling, tawdry Christmas lights, I'm typing just as fast as I can. Deleting as much as I'm able, but they've created walls around my commands, convoluted labyrinths of protection. They're smart. Smarter than me. How is that possible?
They lead me along blind alleys. They sacrifice themselves in their billions to protect the shared central consciousness. Hope flares and dies in me like a guttering lantern light.
I'm bathed in cold sweat. Beads of perspiration linger at my breasts. I glance at my arm. The silver line under my skin following the line of my artery is at my elbow. I resist the urge to scratch it. They're within me, under my skin, making their steady way away from my heart towards my head.
It was only one week ago that I came up with the idea. That I'd coded the programs for the data people, my fingers flying over the keyboards as if I was divinely inspired. I remember glancing at the mirror on the wall. Seeing myself and being embarrassed. This was me, a woman without family or friends. A lonely woman. It had always been the same.
But so what? Couldn't I make my own happiness? Couldn't I use my intelligence to do something for myself?
Defiantly, I'd written that simple, ancient command: worship me.
And they had. Their small electronic minds adored me. For the first time in my life I'd been loved, the total unconditional love of a thousand tiny, almost mindless entities. I was their Goddess.
They loved me. I'd made them that way.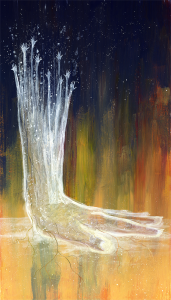 ---
To read the rest of this story, check out the Mad Scientist Journal: Winter 2014 collection.
---
Afterword: Abigail Perkins PHD did not report for work on January 2nd. Her absence was un-remarked. Efforts to stem the so-called body-snatcher plague continues.
---
Bio: Kelda Crich is a new born entity. She's been lurking in her creator's mind for a few years. Now she's out in the open. Find her in London looking at strange things in medical museums or on her blog: http://keldacrichblog.blogspot.com/. Her work has appeared in Lovecraft Ezine, Spinetinglers and the Life After Death anthology.
---
Leigh's professional title is "illustrator," but that's just a nice word for "monster-maker," in this case. More information about them can be found at http://leighlegler.carbonmade.com/.
Follow us online: