An essay by Mr Grim, as provided by Steve Toase
Art by Luke Spooner
---
"Run that past me again?" I said, looking at the object on the table, then the rounded nub at the end of my leg.
The doctor smiled and put his fingers together into a pyramid.
"Certainly. The replacement foot is made of hair. A cheap commodity now that oil scarcity is pushing up the price of plastic, and not without precedent in nature."
I reached out for the prosthetic, holding it carefully in both hands. It weighed more than expected.
"In nature?"
"The rhinoceros. The horn is actually made of hair. Human hair is of course in endless supply," the doctor said, taking the foot back.
I wasn't convinced. The doctor reached down for my leg, and started to attach the foot to my ankle. The hair was softer than expected against the bare skin of my stump, compact like felt.
Then my toes moved.
"Don't worry. They're meant to do that," said the doctor, smoothing down the bristles.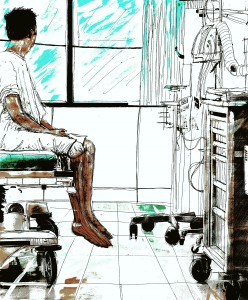 ---
To read the rest of this story, check out the Mad Scientist Journal: Winter 2014 collection.
---
Mr Grim is a middle-aged builder living in the Midlands, England. He likes Blues music and vintage cars. Following an unfortunate scaffolding accident Mr Grim lost the lower part of his leg. His specialist told him about a new prosthetic treatment. Mr Grim is by nature very trusting.
---
Steve Toase is an author, archaeologist and journalist living in North Yorkshire and occasionally Munich, Germany. As an author he writes mythic fiction, weaving elements from folklore and legend into a contemporary setting. In Steve's work Gods are found in boxes, trees hitch-hike and bears play chess in sunlit plazas. Over thirty of Steve's stories have been published.
To read more of Steve's work please visit stevetoase.co.uk, www.facebook.com/stevetoase1, and www.twitter.com/stevetoase
---
Luke Spooner a.k.a. 'Carrion House' currently lives and works in the South of England. Having recently graduated from the University of Portsmouth with a first class degree he is now a full time illustrator for just about any project that piques his interest. Despite regular forays into children's books and fairy tales his true love lies in anything macabre, melancholy or dark in nature and essence. He believes that the job of putting someone else's words into a visual form, to accompany and support their text, is a massive responsibility as well as being something he truly treasures. You can visit his web site at www.carrionhouse.com.
---
Follow us online: