We're halfway through our funding period, and we've met our first stretch goal. Thank you all for joining us on this wild ride. To celebrate, I thought I'd highlight another author and give you guys a video review of his work by Felicia Day. Sort of.
"The dark, gnarled branches over the Miskatonic Valley road swallowed the sun. Shortly before we plunged into full twilight, our headlights lit the sign, Welcome to Dunwich, on the narrow road into town. Barely dinnertime, and the place was a ghost town of old houses and scrabbly trees in rocky yards. Dunwich was a shit town. The tallest building was a pale church that scratched the night sky like a skeleton's hand. Dunwich didn't even have a McDonald's, and the only person I saw on the streets was a tall, thin figure walking a sickly dog in an under­lit park."
— "Goat" by Nathan Crowder
Nathan Crowder has a diverse portfolio when it comes to fiction, from superheroes to science fiction to horror. His contribution to our story is an insidiously creepy tale of football and local traditions. Illustrative of his talent with horror is his story, "The Fishwives of Sean Brolly." It originally appeared in the anthology Cthulhurotica, which is really what it sounds like. It was reviewed over a year ago by the Vaginal Fantasy Hangout.
You can click on the image of Felicia Day below to jump to the section covering his story. You'll want to give it a couple minutes, as they'll go off on another story before looping back to Nathan's story. I wanted to give you full context for the scene.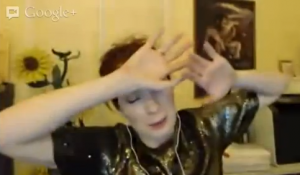 We really hope that you enjoy his contribution to our anthology. Hopefully more than Felicia Day enjoyed his earlier story.
Follow us online: