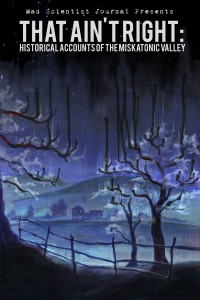 We're four days away from launching the Kickstarter for That Ain't Right: Historical Accounts of the Miskatonic Valley, so here's another glimpse at what we have in store for you. (And if you missed our earlier post, it is here.) We'll be doing an open call for submissions after the Kickstarter ends, when we can see what our budget looks like. But we also have a fat handful of stories already accepted so that we can give people a taste of what's in store for them. Here's the lineup we have so far.
"Come Down, Ma Evenin' Star" by Sanford Allen
"Arkquarium" by Folly Blaine
"Goat" by Nathan Crowder
"Dr. Circe and the Shadow over Swedish Innsmouth" by Erik Scott de Bie
"August and Autumn" by Jenna M. Pitman
"A Matter of Scale" by Emily C. Skaftun
"The Laughing Book" by Cliff Winnig
We're planning on sharing more glimpses at these fun stories over the course of the Kickstarter. We hope you join us on this crazy ride.
Follow us online: