An essay by Ellis Dowd, as provided by JC Hemphill
Photo provided by Eleanor Leonne Bennett
---
Until yesterday, I worked in quality control at the Farmer's Son peanut butter factory. You know, that big, shiny one over in Level Creek. The iceberg of peanut butter factories, the owners called it. Built to sink the Titanics of the industry. Jif and Skippy, beware!
Pipe dreams come in all shapes and sizes, don't they?
Anywho, as far as factory jobs go, QC is as cush as they come. I spent years on the assembly line working toward that position. Starting at the beginning of the process, I spent six months pouring fifty-pound bags of nuts and salt into the roaster–a monster of a machine we lovingly dubbed Mr. Peanut, a term the owners considered blasphemy. Remembering their petulant outcries when they discovered someone (who isn't me, I'd never do such a thing, wink-wink) had drawn an image of the monocled peanut in Sharpie on one side of the stainless steel vat still gives me the chuckles.
From there I moved to the conveyor belt, where I held the mind-numbing duty of picking out burned peanuts from good ones as they zipped on to the masher.
If you've never contemplated suicide, try spending an eight-hour shift doing that. To pass the time, I made a game of counting how many bad peanuts I could let slip by without being called out by one of the current QC guys. My record was two hundred and eleven.
Eventually, I shimmied on down to jar filler. Only slightly less suicide-inducing than sorting peanuts, I used a pneumatic gun to pump creamed butter into plastic jars. I sometimes wondered what it was like at the factory where they made the jars. Talk about dull, I told myself. Looking back, I think I used the image of those poor bastards as a way to make my own work bearable.
Funny thing is … it worked.
For a time.
Then, after six robotic years on the line, I was called up to the show: QC.
I was happier than a Rottweiler with a T-Rex's shinbone.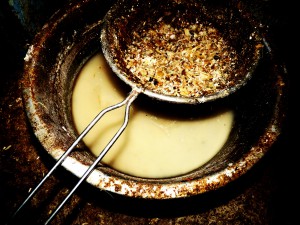 ---
To read the rest of this story, check out the Mad Scientist Journal: Summer 2013 collection.
---
Ellis Dowd is not a scientist. His mama pulled him out of school at the age of fifteen because she 'don't like the lies the gov'ment be stuffin his head wit'. But Dowd is most certainly mad; this much is proven by the pandemic of Peanut Plague sweeping the American south. If you or anyone you know has information on his whereabouts, please contact your local sheriff's department immediately.
---
Writing consumes. The reader is consumed by a world of imagination; the writer is consumed by an obsession for expressing those imaginings. As both an avid reader and writer, JC Hemphill can be difficult to find. The words, you see, have consumed him. And if you or anyone you know goes looking for him, beware. Words have teeth and they just might consume you, too.
Some of his work has appeared in Buzzy Mag, Stupefying Stories, and Nameless Magazine, with upcoming work in Space and Time, Tales to Terrify, and S.T. Joshi's Weird Fiction Review. Free reads and more can be found at www.JCHemphill.com.
Again, if you seek the man himself … beware.
---
Eleanor Leonne Bennett is an internationally award winning photographer and visual artist. She is the CIWEM Young Environmental Photographer of The Year 2013 and has also won first places with National Geographic,The World Photography Organisation, Nature's Best Photography and The National Trust to name but a few. Eleanor's photography has been published in the Telegraph, The Guardian, The British Journal of Psychiatry, Life Force Magazine, British Vogue and as the cover of books and magazines extensively throughout the world. Her art is globally exhibited, having shown work in New York, Paris, London, Rome, Los Angeles, Hong Kong, Copenhagen, Washington, Canada, Spain, Japan and Australia amongst many other locations. She was also the only person from the UK to have her work displayed in the National Geographic and Airbus run See The Bigger Picture global exhibition tour with the United Nations International Year Of Biodiversity 2010. In 2012 her work received coverage on ABC Television.
Follow us online: